Tancredo: Left's Attacks on Bannon Indicate 'How Afraid They Are of Him'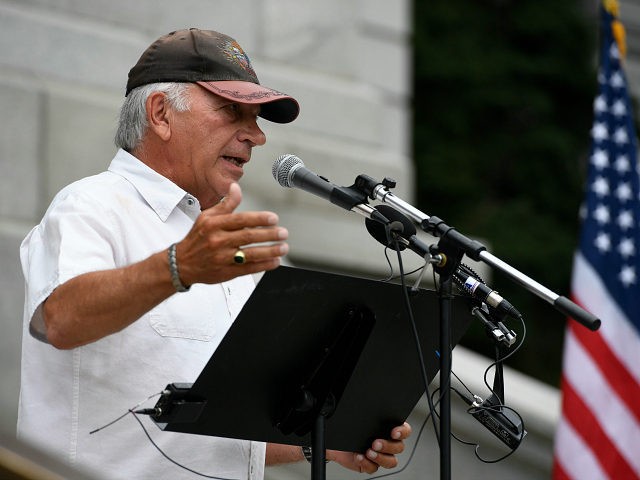 Breitbart contributor and former Rep. Tom Tancredo (R-CO) gave his reaction to Breitbart News Executive Chairman Stephen K. Bannon's keynote address at the Remembrance Project National Conference in Washington, DC.
Tancredo, a leading figure in the battle against illegal immigration since his election to Congress in the late 1990s, spoke with Breitbart News shortly after giving his own address, held in honor of Americans killed by illegal alien crime and the "angel families" of the bereaved. "Because he is attacked as much as he is, there is no better indicator of how powerful he is and how afraid they are of him," Tancredo said of Bannon, to whom, in his speech, he referred as his "boss."
Addressing the angel families and other attendees at the Willard Hotel, Tancredo related his decades-long struggle against the Republican establishment to bring the illegal immigration issue to the political fore. He described an eye-opening early experience shortly after his 1998 election, when over 200 of his fellow congressional Republicans walked out of a GOP conference meeting rather than watch his video on the ongoing flood of illegal aliens in Arizona.
Later, Tancredo turned his attention to his just-announced 2018 campaign for the governorship of Colorado, an office he has run for twice before. Seven years ago, in a landmark election for the anti-illegal immigration movement, Tancredo won 24 Colorado counties on a Constitution Party platform, but was kept out of the governor's office in part because the Republican Party establishment enlisted national donors and resources against him. Tancredo was prevented from carrying the banner of the party he served in Congress into the general election because of his hardline stance on immigration. The GOP eventually ran a spoiler candidate who received only 11 percent of the vote and ensured a Democratic victory.
Given the pro-sovereignty wave that has swept the country in the age of Trump, Tancredo was confident of the chances for a populist-nationalist like him in 2018. "I am presently ahead of every single one of my Republican contenders in the primary for governor, and I am ahead by at least fifteen points," he told Breitbart News, citing private polling. "But, more interesting to me, I am tied with the potential Democrat who's going to run for governor, and that came out two weeks before I ever entered the race. So things look good."