Politico: Bannon Sticking by Moore 'Through Thick and Thin'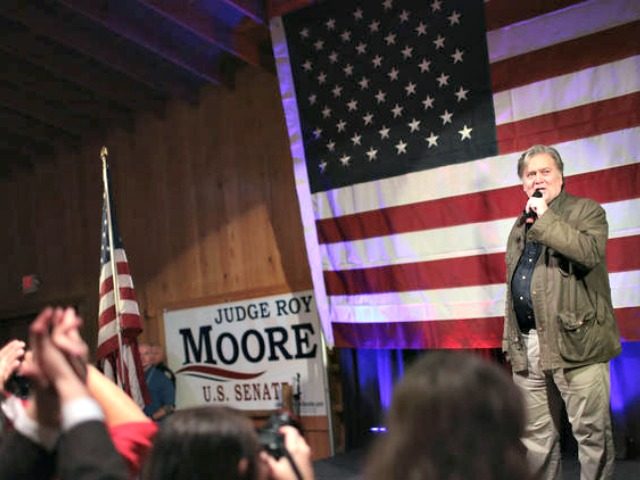 Eliana Johnson writes for Politico that Stephen K. Bannon, along with the people of Alabama, is sticking with Judge Roy Moore in the face of accusations being leveled at him:
Steve Bannon is not backing away from Roy Moore, the controversial Alabama Senate candidate facing a slew of accusations that he had inappropriate sexual contact with teenagers.

Two sources close to the former White House chief strategist and Trump campaign CEO, who helped turn the September Senate primary into a referendum on Senate Majority Leader Mitch McConnell, swatted down speculation that Bannon was reevaluating his support for Moore in the wake of the allegations.

"It is 100% fake news that Steve Bannon would abandon Judge Moore," said a source familiar with Bannon's thinking, comparing the situation with the Access Hollywood video scandal that prompted calls for Donald Trump to drop out of the presidential race.

"He is standing with Judge Moore through thick and through thin. The polls show the people of Alabama believe Judge Moore is innocent until proven guilty and these charges have not seen any evidence produced backing them up," the source added. "The people of Alabama are smarter than the political class in Washington, the fake news locusts in the media, and the financial donor-class elites on the island of Manhattan. Judge Moore still has the support of the people of Alabama."
Read the rest of the story here.