Palm Springs Becomes First City Council in Nation to Be All Homosexual, Bisexual or Transgender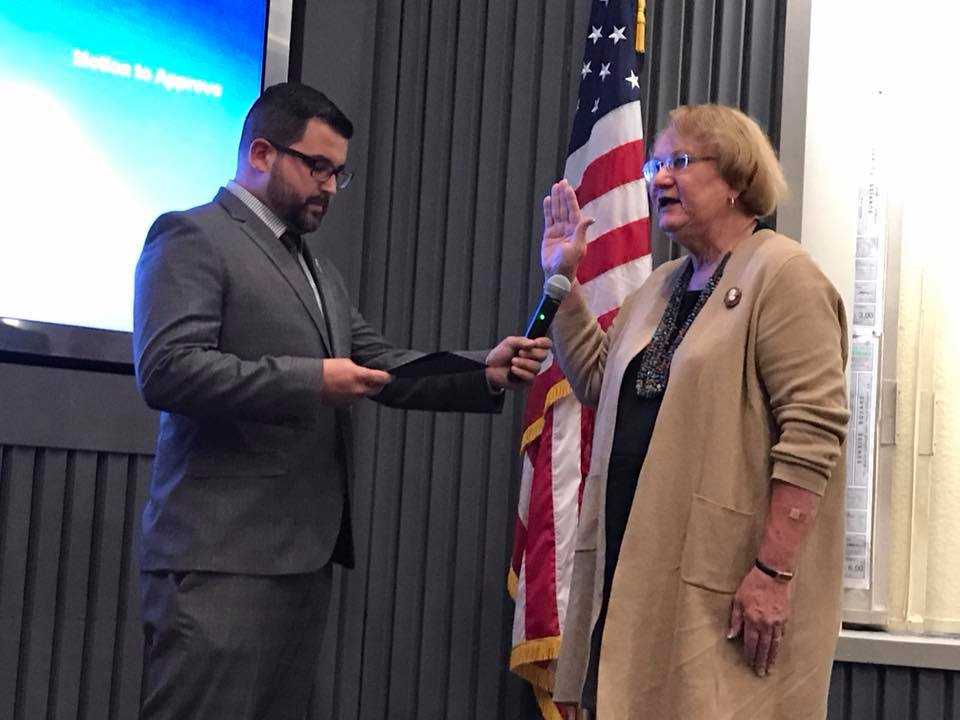 PALM SPRINGS, Calif. — The City of Palm Springs, California has sworn in a man who identifies as a woman, as well as a woman who identifies as bisexual, making its city council all-"LGBT" as its other three members identify as homosexual.
Lisa Middleton, a man who identifies as a woman (pictured), and Christy Holstege, an attorney who identifies as bisexual, were both sworn in on Wednesday after being elected last month.
They join Mayor Robert Moon and Councilman Geoff Kors, who both are "married" to men, and Councilman J.R. Roberts, who likewise identifies as homosexual.
Holstege and Middleton won with 30 percent of the vote, as compared to the 13 percent received by the nearest candidate. They replace Ginny Foat and Chris Mills, who decided not to run for reelection, according to CBS News.
"The kind of actions that made my election possible took place over the last 15-20 years in this city," Middleton stated, according to local television station KESQ. "I am thrilled to have an opportunity to represent Palm Springs and Palm Springs values throughout this state and throughout this country."
"It takes a diverse voice," Holstege, who is married to a man but who identifies as bisexual, also remarked. "I work to make a living in Palm Springs. I want to raise kids here, and I think that's important. I have to represent all of us, each and every one of us who lives in Palm Springs and I'm really looking forward to build a Palm Springs that works for all of us."
Middleton's campaign website outlines that he is involved with various humanitarian and transgender advocacy groups, including the LGBT Center of the Desert and Equality California, and also serves as the chair of the neighborhood improvement coalition ONE-PS. Middleton is married to a woman and has an adult son and daughter.
Holstege's campaign website notes that in addition to handling civil litigation, elder law and domestic violence law, she also "focuses her practice and pro bono efforts serving underserved communities of the Coachella Valley, including people with disabilities, LGBTQ people, homeless individuals, injured workers, personal injury victims, and victims of discrimination and violence."
According to a report by the Desert Sun entitled "Gay Then, Gayer Now: The New Palm Springs City Council Marks a Milestone in LGBT Acceptance," Palm Springs has a history of electing homosexuals to office, as the two previous mayors and four past members of city council have identified as homosexual.
However, Councilman Roberts told the New York Times that he doesn't want Palm Springs City Council to be known primarily for its sexuality.
"As the last bit of confetti is being swept up, some concerns have replaced elation," he outlined to the outlet. "I really don't want us to be known as the queer council. I want this to be about the things we accomplish."
Holstege said Wednesday that she wants to focus on issues such as homelessness and to restore trust in the expenditures of public tax money. Middleton, who has worked with the Planning Commission since 2014, likewise stated that the passage of a half-cent sales tax is a priority in order to give the city a better budget to work with in regard to city planning and zoning.
As previously reported, at least two other men who identify as women were elected to government office last month. In Minnesota, Andre "Andrea" Jenkins was elected to the Minneapolis City Council, and in Virginia, Daniel "Danica" Roem was elected to the House of Delegates.
Historic American statesman Daniel Webster, who held office both in the House and Senate, once said, "If the power of the gospel is not felt throughout the length and breadth of the land, anarchy and misrule, degradation and misery, corruption and darkness will reign without mitigation or end."
Noah Webster, known as the father of American education, also said, "All the miseries and evils which men suffer from—vice, crime, ambition, injustice, oppression, slavery and war—proceed from their despising or neglecting the precepts contained in the Bible."
A special message from the publisher…
Dear Reader, because of your generous support, we have received enough funds to send many audio Bibles to Iraqi and Syrian refugees displaced by ISIS in the Middle East. Many have been distributed and received with gladness. While we provide for the physical needs of the people, we seek to provide the eternal hope only found in Jesus Christ through the word of God.
Would you join us by making a donation today to this important work?
Please click here to send an audio Bible to a refugee family >>